Editing something we've created is probably just as important as creating it in the first place, since rarely things come out perfect the first time around. Heck, we suspect that even Leonardo Da Vinci probably had a draft of the Mona Lisa stashed somewhere safe from prying eyes until he was ready to reveal his masterpiece to the rest of the world.

So, as you can see, the idea of refining your creations through the process of editing isn't exactly new can apply to just about anything – from a pencil sketch in the fourth grade to (you guessed it) editing a PDF file on a phone. But hold on a second...


Can you even edit a PDF on Android?

The short answer is yes, you can! In fact, there are plenty of options for creating a document on your mobile device, whether you need to create a PDF from scratch, convert a PDF from image or scanned document, or something else. So, let's forget the traditional way of handling PDF documents on a PC for a moment and think about how you can easily do this on the go. As it so happens, PDF Extra comes equipped with many tools you can use to polish your work or personal projects up to an industry standard. Alright, now that we learned that editing a PDF on Android is possible...


What are the benefits of doing this?

Great question! If you think about it, we already live an "on-the-go" lifestyle: we drink coffee on the go, eat our lunch on the go, so why not also be able to edit PDFs on the go as well? Let's dive into some fundamental details as to why editing PDFs on your mobile device is much more straightforward than it probably sounds:


PDF Extra for Android gives you the ability to scan any physical document using nothing but your phone's built-in camera;


With a specialized PDF app, you can do much more than just view files. Whether you've just scanned a document or already have something open on your device, with PDF Extra you will have access to the same deep editing options that you would find on your average PC or laptop;


Thanks to modern-day technologies, like fingerprint scanners, face recognition software, and built-in password protection systems, your confidential information will always be well-guarded. You could then protect your PDFs even further by encrypting them directly within PDF Extra;


Sharing your work and files from your phone is much easier than using a PC to do the same job. When editing PDFs on Android, you have all the contacts and address books available at the snap of your fingers. This makes the sharing process effortless, and more importantly, much faster;


In most use cases, editing a PDF on a phone takes up much less time since you can quickly change everything you don't like with a few taps;


If you need to convert a PDF on Android, you are most welcome to do so. The PDF conversion process is seamless and you can export PDFs to Word, Excel, and ePub.

As we can see from the extensive list above, the mobile screens of today are nowhere near as small and useless as they were back in 2005. You can freely zoom, scroll, and expertly navigate any file, not to mention the rich editing options at your disposal. So, whether you are riding in the back seat of a car, commuting to work, or drinking your morning latte at your local coffee shop, PDF Extra will always have you covered, no questions asked.


How to edit PDFs on Android - a step-by-step guide

You don't have to be a rocket scientist to edit PDFs on a phone. Let's dive deep into the features you can expect to find once you install the PDF Extra app on your device.


Editing texts

All texts, no matter how well written, could sometimes use some editing (remember the Leonardo Da Vinci theory from earlier?). Luckily, PDF Extra lets you play around with various text parameters. Here's how you can start editing PDF texts right away:


1. Open the app and tap the "Edit text & images" feature.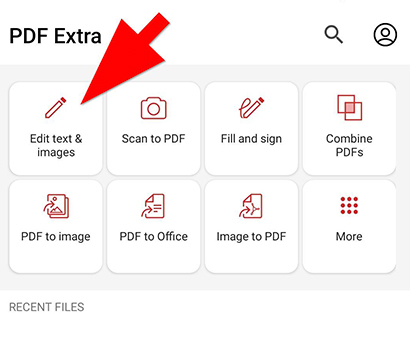 2. Select a file you wish to edit on your Android. It can either be stored locally on your phone or recalled directly from the MobiDrive cloud (the latter would require you to register an account with us first).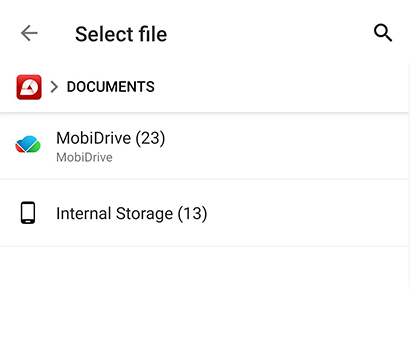 3. Tap on a file to open it.

4. Tap on an existing text to select it and activate the editing options. You can freely add or delete the content as you go.

5. Use the integrated keyboard that will appear at the bottom of your mobile device's screen and make your edits.

6. To activate the clipboard with additional actions, tap and hold the text you need to edit. You will then be able to choose between the option to "Cut", "Copy", "Paste", or "Delete" the text. You will also get a "Properties" option, where you can seamlessly edit the design of the text until it's custom-tailored to your needs. This includes changing the font type, font style, font size, and color.
In addition, you can also improve the PDF's readability by adding highlights, strikethroughs, or underlining it where needed. To do this, open PDF Extra and:



2. Tap on a file to open it.

3. From the presented options, select "Comment".

4. In the bottom menu, slide left to access more options.

5. Tap on the desired option: "Highlight"/"Underline"/"Strikethrough"/etc.

6. Hold and drag over a text to annotate it.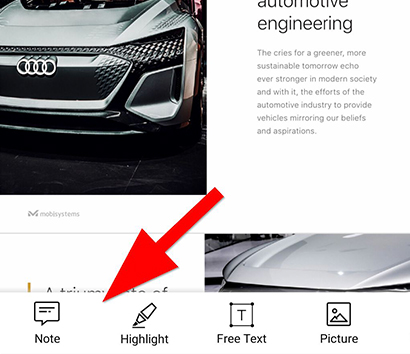 Our software also offers a variety of other options, such as the ability to add photos, which can help you add more clarity to complex concepts or break up otherwise long-winded walls of text. Here is how to edit a PDF on Android by adding and adjusting images to your document:


Open PDF Extra and tap on "Edit text & images".


Tap the location where your document is

–

the MobiDrive cloud or your device's internal storage.


Tap on the document you need to open.


Tap on "Picture" from the bottom menu.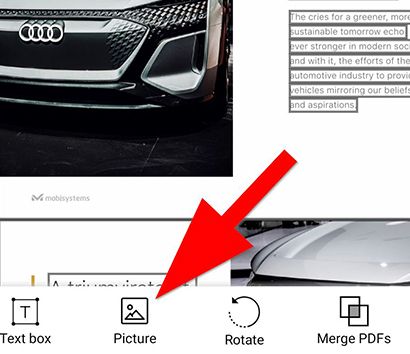 You will now be able to choose from the following options:


"Edit picture"

–

select this option if you want to edit an already inserted image. After that, simply tap on the image and use the options to adjust it as per your needs;


"New picture"

–

this option allows you to upload an image from your device's storage or MobiDrive cloud;


"New camera picture"

–

use this to edit PDFs on Android by taking photographs on the go with your device's camera and inserting them into your document.


Attaching files

Since this PDF software allows you to attach files, you might find this option pretty useful as well. The workflow is quite simple:


1. Open PDF Extra.

2. Tap on Annotate.

3. Select which file you need to edit.

4. From the bottom menu, slide left to reveal more options, and tap on the Attach file button.

5. Tap on where you need to insert the file.

6. The Android PDF editor will open the file dialog specific to your device, from which you can choose the file you wish to insert within the document.


Creating a new PDF

Before you start editing PDFs on Android, you should probably explore your options for quickly making one from scratch. Luckily, PDF Extra makes this task a breeze. You can create a new PDF in one of three ways:


Go to Tools → Create →

Create Blank. This gives you the ability to start off from a clean slate and build your PDF from the ground up;


Go to Tools → Scan to PDF. This will allow you to use your Android phone camera to scan any physical document, which you can then turn into a digital image and insert into a PDF for further changes;
Tap on Combine PDFs. This will combine two or more documents together into a brand new PDF, while preserving the original texts and formatting of each file. You can then go ahead and edit this combined file to your heart's content.


Final thoughts

Editing PDFs on the go is a powerful ability that can help you keep on top of your work from any place and at any time. And the best part is that when using PDF Extra, you are not making any trade-offs and gain access to all functionalities that you've come to expect in the office. Whether it's simply adding images and highlighting texts or scanning documents and applying more complex formatting, such as strikethroughs, or even attaching files to your PDF, you can one-up Da Vinci any day by getting things done right not from the first try and much faster as well. Talk about efficiency!

Create your first masterpiece today – try out our professional suite of PDF tools for free.