In case you are among the people who tend to work in different teams and projects, you probably know a thing or two about changing file formats, especially so when it comes to PDF conversions. After all, this process is essential in simplifying office projects of almost any kind (or in making them much more complicated, depending on who you ask).

Converting files into PDFs is more or less a streamlined process. However, if you've never converted files before, we'll have to start from the very beginning.


What is file conversion (and what makes it an important feature)?

Simply put, conversion is the process of changing the format of one file type into another, for example, turning a Word into a PDF (or vice-versa). Simple, right? Yes, but only if you have the right software to boot.


Say that you've received a file that is not supported by your device's software. Hence, it cannot be opened, and you cannot get your job done. This is where specialized file conversion software comes in. With a PDF converter, you will be able to transform the file into an editable PDF, make the desired changes, send it over email, and move on with your day.


What software do I need to convert files to PDF?

While converting files to PDF doesn't require you to own lots of software editors or readers, you certainly need at least some hardware. For some time now, mobile devices can do most of the things that a personal computer from the 90s could only dream of. PDF Extra, for example, is supported on mobile devices and allows you to seamlessly convert PDFs on the go from your Android or iOS phone or tablet. Of course, a Windows-only version is also available.


There's a lot of software out there that can serve you well, but the key thing is to try it first to see if it will fit your workflow (PDF Extra has a free trial period for this very reason). With that out of the way, let's address another topic that constantly comes up when converting PDF files.


Is it safe to convert files to PDF?

Nowadays, data privacy is pretty much on everyone's mind. This is especially true for the various free online tools out there, such as the multiple online PDF converters that will pop up after a quick Google search. The trouble with such online software programs is that they demand users to upload files to their servers, otherwise the conversion won't happen. However, this may potentially lead to misuse of data or other issues on behalf of the service provider, so the best way to avoid this headache is to stick to offline PDF converter applications wherever possible.

In general, offline PDF converters are safe, and when you need to change a file into a PDF, there shouldn't be any concerns. However, always go for a well-known and tested PDF software. Opting for a company that offers quality support in case something goes wrong is key as well.


How do I convert to PDF?

Time to answer the question that probably leads you here in the first place. While the interface may differ from one PDF converter app to the next, in many ways the process boils down to a couple of simple steps. For starters, we'll examine how to convert images into PDFs using PDF Extra.


Converting an Image into a PDF

Yes, you've read this right – you can convert an image into a PDF file providing you use the right app. With PDF Extra, the process is seamless as it gets.


1. Open the app and click "File".


4. Choose the image's destination, then click the image and confirm your choice with "Open".


PRO TIP: If you're using PDF Extra's mobile version for Android or iOS, you can use your camera to convert any photo you take directly into a PDF file.


So, what other types of files can be converted to a PDF?

Obviously, making a PDF out of a simple photo taken with your mobile device or uploaded from a computer is easy. However, for professional needs, users will probably need extra options. There are many PDF converters out there, with many of them offering the full package of services when it comes to file conversion. Among the most needed file types are image file formats like .jpeg, .gif, .jpg, .png, .bmp, etc. Another popular user goal is to convert Excel files into PDF. Others still need to change PowerPoint presentations into PDFs as well. Among the most popular file conversions, however, is the one where the user turns Word documents into PDFs.


Converting an OfficeSuite Documents file into a PDF

1. Open the file.


2. If the content doesn't need any additions and it's ready to be converted into a PDF document, click "File".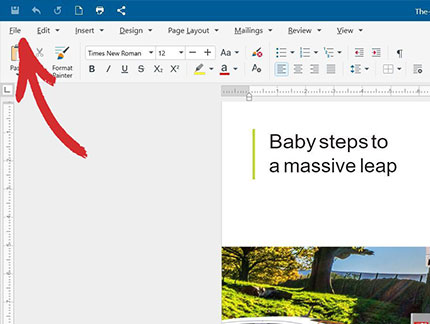 4. You will see a preview of the future PDF. Confirm your choice by clicking the "Export" button.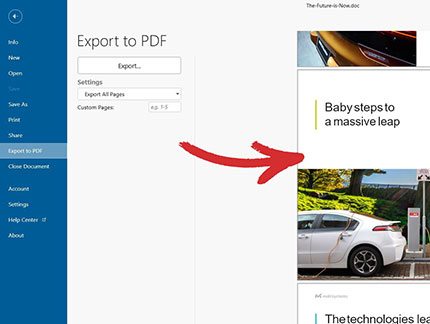 PRO TIP: you can adjust which part of the document you want to convert from the "Settings" menu.


Final words

PDF file conversion is a greatly appreciated feature by both individuals and businesses since it can quickly turn an otherwise famously inflexible file format into anything you need it to be on the spot, all while retaining its layout and formatting.

What we've discussed above, however, is just a glimpse of what PDF Extra's powerful conversion features are truly capable of. Using the app on your mobile iOS and Android devices or your Windows computer, you can also seamlessly convert Excel to PDF, PowerPoint to PDF, ePub to PDF, and vice versa – a few seconds of your time is all you need to get the job done up to a professional standard.


Redefine productivity – try out PDF Extra's converter today.