How to use the PDF organizer

The steps to getting a nice & tidy document are simple.


Access the Organizer module as shown in the previous section.



Pick a file that you want to organize.



With the changes made, save the file as a new PDF.



Enjoy your neatly organized PDF!

Now, let's look at what the organizer module is and what it can do for you and your workflow. Broadly speaking, the organizer module consists of two main elements:


Organizer tools section
Page visualizer section

The tools section looks like this:


It offers quick access to all organizer features within PDF Extra, namely:


Insert Pages
Rotate
Extract Pages
Split PDF
Duplicate Pages
Page Labels
Print Pages
Delete Pages

The page visualizer is where the pages of your document are displayed. It allows you to quickly and intuitively change the page order via simple drag & drop controls, as shown below.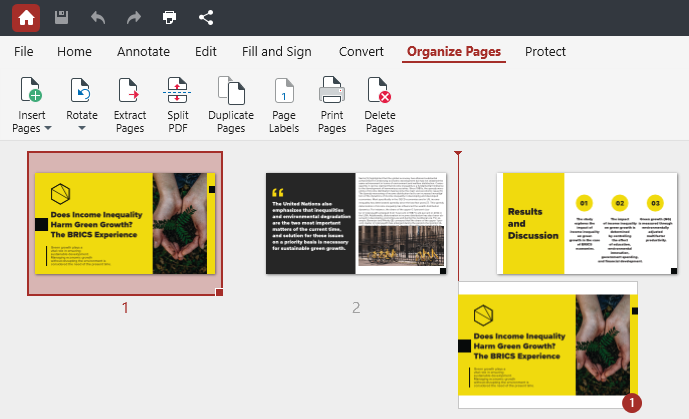 TIP: On Windows, you can select and reorder multiple pages by left-clicking a page from which you want the selection to start, holding down SHIFT, and then left-clicking the last file from your selection. To add only specific pages to your selection, hold down CTRL instead.


Another key feature is the inspect function (represented by the magnifying glass icon), allowing you to preview the contents of a given page – useful for when you want to double-check if a page needs to be removed or added to your document. You can access this feature by clicking on a page or simply hovering over it with your mouse cursor.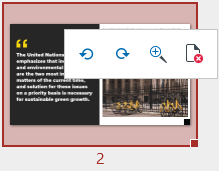 TIP: In addition to zooming in on pages, with this quick access menu you can also delete pages to make your PDF smaller or rotate them in both directions, as shown above.


Finally, you can also right-click a page for an even quicker way of accessing most of the PDF organizer features.


However, all of this just scratches the surface of what PDF Extra's organizer module is truly capable of. Let's take a more detailed look at how you can optimize the viewing experience of your PDFs and streamline them for further editing and document annotation work.